I used soft batting, a thin line, on the headband and then used some gold satin bias tape. I was practicing. I used some gold metallic mesh and formed a 'loose' type flower with Swarovski (sp?) crystals in the center. I also sewed some next to the flower on the band itself. I then put some gold glitter glue, a few dabs around the crystals for some extra sparkle. It's a practice effort but for a first one turned out pretty solid. Critiques welcome, believe me.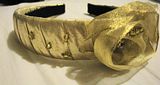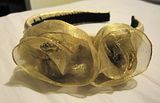 Below are some of my barrettes and clippies. I used whatever I could find to accent. Mostly they have satin ribbon and silk flowers. I also use old broken jewelry parts, beads, faux pearls and glittery glues when needed. Again, critiques are much welcomed.
Hopefully I can post these pics now. Not sure if I've posted enough yet but this is the old college try.