OKAY LADIES, HAYLEE JUST FINISHED STATE FINALS IN THE SUNBURST BEAUTY STATE COMPETITION AND PLACED IN SEVERAL DIFFERENT CATEGORIES! YAY, HAYLEE!!! J
SHE WON:
· 4TH RUNNER UP STATE PRINCESS
· QUEEN, SUPER MODEL DIVISION
· 1ST RUNNER UP, COMPOSITE PHOTO
· 1ST RUNNER UP, CASUAL WEAR
· 2ND RUNNER UP, SWIM WEAR
HERE'S A QUICK PIC OF HAYLEE AND HER AWARDS, NOT THE BEST, BUT IT'LL DO FOR NOW: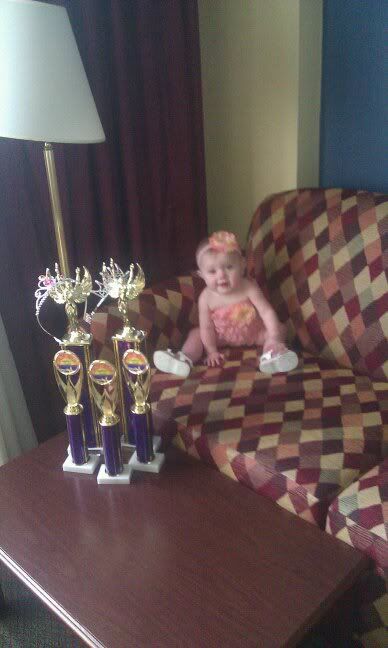 SINCE SHE PLACED IN ALL DIVISIONS, SHE IS ADVANCING TO NATIONALS, WHICH ARE GOING TO BE IN ATLANTA, GA AT THE END OF JULY! WHAT FUN! J
I AM NOW SELLING AD SPACE FOR THE NATIONALS PAGEANT PROGRAM BOOKLET WHICH WILL BE DISTRIBUTED TO 500+ CONTESTANTS AND THEIR MOTHERS, ALONG W/SEVERAL MORE BEING PURCHASED BY ACCOMPANYING FRIENDS AND FAMILY @ THE PAGEANT.
THE AD PRICES CONSIST OF 25.00$ INCREMENTS.
· 25.00$ GETS YOU A BUSINESS CARD SIZED AD
· 50.00$ GETS YOU A Ό PAGE AD
· 75.00$ GETS YOU A 3/8 PAGE AD
· 100.00$ GETS YOU A HALF PAGE AD
· 150.00$ GIVES YOU A FULL 8X10 PAGE AD
HERE IS THE SOME OPTIONAL/AVAILABLE LAYOUTS FOR PURCHASE (REMEMBER THESE ARE JUST SAMPLES – AND WE CAN CUSTOMIZE ADS TO OUR LIKING):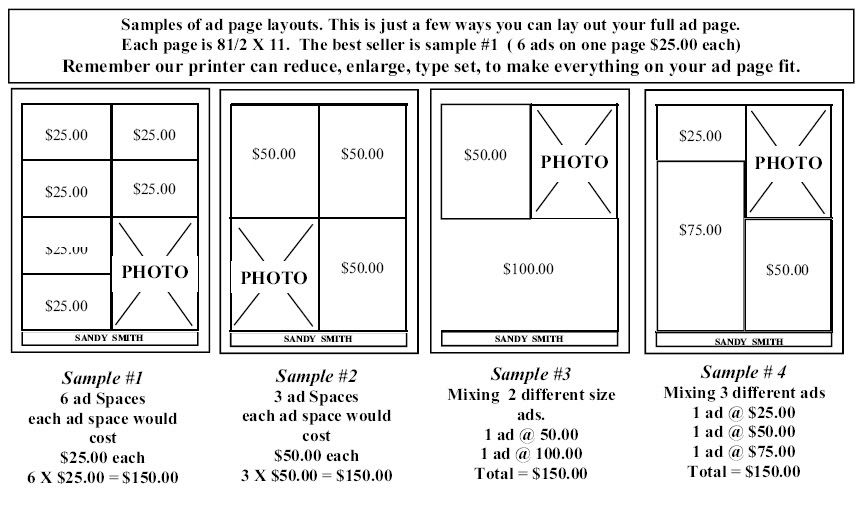 THESE ADS CAN FEATURE YOUR BUSINESS NAME, LOGO, TAG LINE, PRODUCTS OFFERED, WEBSITE, MAILING ADDRESS, TELEPHONE NUMBER AND MORE.
BECAUSE THESE ADS ARE IN SPONSORSHIP OF HAYLEE, THEY WILL FEATURE A PHOTO OF HER, ALONG WITH YOUR AD SPACE/CONTENT.
ANYONE INTERESTED, I WILL BE WILLING TO HAVE YOUR PRODUCTS PHOTOGRAPHED W/HAYLEE, SO THAT YOU GET A VISUAL PRODUCT AD ON THE PAGE AS WELL.
I WILL BE WORKING W/A PROFESSIONAL, LOCAL PHOTOGRAPHER TO GET PHOTOS DONE, AND IN RETURN FOR YOU SHIPPING THE PRODUCT AND PURCHASING THE AD SPACE, YOU WILL GET A COPY OF THE PHOTO TO USE ON YOUR WEBSITE, AS WELL. (THE PRODUCT CHOICE WILL BE LEFT UP TO YOU – WE CAN NEGOTIATE TERMS, PER BASIS)
BECAUSE OF THE COST/EFFORT OF GETTING THESE PHOTOS DONE, YOU MUST PURCHASE 100.00$ OR MORE WORTH OF AD SPACE FOR YOUR PRODUCT TO BE FEATURED ON THE PHOTO OF HAYLEE. I WILL ENSURE TO MAKE NOTE OF THE FACT THAT THE PRODUCT IS BEING MODELED BY HAYLEE ON THE AD SPACE.
IF YOU ARE INTERESTED IN THIS AD SPACE, PLEASE CONTACT ME: AMBER @ LILBEARSBOUTIQUE. COM OR 615- 389- 4191
I WILL NEED ELECTRONIC FORMAT OF YOUR LOGO, BUSINESS NAME, ETC..ETC… YOU CAN ALSO FEEL FREE TO MAIL A BUSINESS CARD TO ME TO BE USED FOR THE AD SPACE. I WILL BE PUTTING TOGETHER THE AD LAYOUT FOR YOU, AND WILL BE MORE THAN HAPPY TO WORK WITH YOU ON MAKING SURE IT'S TO YOUR LIKING.
THESE HAVE TO BE PURCHASED, LAYED OUT, AND MAILED INTO THE PAGEANT'S MAIN OFFICE NO LATER THAN JUNE 20TH, SO I WILL NEED TO WORK ON THEM VILIGENTLY TO MAKE SURE IT IS DONE IN A TIMELY MANNER.
LADIES, I CANNOT STRESS HOW GREAT OF AN OPPORTUNITY THIS IS!!! PAGEANT MOMS SPEND LOTS OF MONEY!!!!!!!!! THEY ARE ALWAYS ASKING ABOUT WHERE YOU SHOP, WHERE YOU FOUND CERTAIN PRODUCT, ETC..ETC…ETC… IN FACT, HAYLEE WORE SEVERAL OF MY OWN CREATIONS AT LOCAL AND STATE FINALS AND I GENERATED BUSINESS OUT OF IT!!!
THERE IS A GOING TO BE A TON OF MOTHERS THAT WILL BE THUMBING THROUGH THIS PROGRAM BOOK, AND WILL STOP TO CHECK OUT BOUTIQUE ITEMS! THIS IS A SERIOUSLY GOOD OPPORTUNITY FOR YOU TO GENERATE SOME SALES!
PAGEANT SEASON IS ON!!!!!
IF YOU HAVE ANY QUESTIONS AT ALL, PLEASE DON'T HESITATE TO ASK! I LOOK FORWARD TO HEARING FROM YOU LADIES!! J
HERE IS SAMPLE AD PAGE –