I made instructions for both 3 1/2 years ago and I still sell them the price is only $4.95 and includes both the monkey and the banana. They are on my website and Etsy if anyone is interested.
Here is the picture of the set I made, they are fun and adorable but do take a little time to make.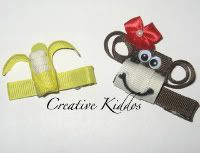 Thank you. This thread is from 2007.