Quote:
Originally Posted by
ammorgan
In the instructions it says to use a mountain down crease when starting your bow, and a mountain up crease for the loops. Is that just the accordion fold I've seen, where its 3 folds, or do you just fold it in half either up or down? Every video I've watched of theirs it looks like they just push the ribbon down in the middle without doing any folding, but I could be wrong.
The mountain up crease I'm having a hard time getting. Not sure how to get the center to go up while the sides stay down if its a 3 fold.
Help please
Hi Ammorgan,
I just saw your Bowdabra question, in reference to the Mountain up and Mountain down question. Many times for regular bows the ribbon is just pushed down into the center. - But for hair bows I wanted to make sure there was a crease option. For me it is always easier to make a Mountain up (which would also be an accordion fold, 3 sided folded). When I start my bows I make a Mountain up, then just turn the ribbon over (so that I have the Mountain down) next I pinch the ribbon in the center, and then press it into the Mini Bowdabra.
Here is an example of the Mountain Down crease when starting the bow.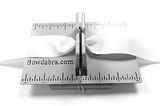 Here is an example of the Mountain up crease when making the loops.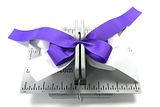 Here is the link for the full tutorial.
http://bowdabrablog.com/2013/01/09/h...flower-center/
Hope this helps please feel free to PM if I can be of further help. :-)